Electrolyte Analyzer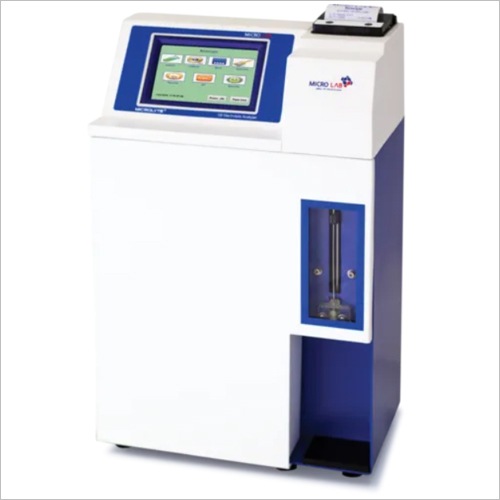 Electrolyte Analyzer
Price And Quantity
Piece/Pieces

110000.00 - 120000.00 INR
Product Specifications
N/A

Universal input voltage 95 to 265 V / 50-60 Hz
90189019

10 to 35 Celsius (oC)
Electrolyte analyzer

8 Kilograms (kg) Kilograms (kg)
Product Description
We are supplying here the Electrolyte Analyzer that measure electrolytes in serum, plasma and urine. Major components of an electrolyte analyzer are - reagents, electrode module, peristaltic pump, and sample probe. It is extensively used for measuring electrolyte in serum, plasma, urine and samples in dialysis patients. Electrolytes are positively and negatively charged molecules called ions, that are found within the body's cells and extracellular fluids, including blood plasma. A test for electrolytes includes the measurement of sodium, potassium, chloride, and bicarbonate. Electrolyte Analyzer is very useful.
Salient Features of Electrolyte Analyzer :-
We are veteran manufacturer and supplier of a huge range of Electrolyte Analyzer in Ahmedabad, Gujarat, India.
User friendly icon based operation
Calibration cycle: Automatic of programmable: 4 hrs / 8 hrs / standby mode

Liquid stable reagents - RFID reagent management inbuilt

Universal input voltage 95 to 265 V / 50-60 Hz

8 to 32 GB storage

MICROLYTE - Na+ | K+ | Ca++ | Cl- Analyzer
SAMPLE TYPE
Whole blood / Serum / Plasma Urine Samples
SAMPLE VOLUME
100ul Whole blood, serum, plasma

160ul Capillary sample

400ul Diluted (1:5) Urine Sample
SAMPLE ANALYSIS
60 seconds of whole blood plasma

70 seconds of urine sample
DATA OUTPUT
PRINTER
Type Fast Thermal Graphic

Printing speed 50 mm/sec

Dots per line 384 dots/line

Paper Thermosensitive - 57 mm wide, Easy Loading
SCREEN AND KEYBOARD
Color - Touch Screen 5" : 800 x 478
UNITS
DATA STORAGE
1000 test results

Memory: SD card - 8 to 32 GB
QUALITY CONTROL
2 Controls per test -Low, Normal High

Levy-Jennings charts

Quality control storage of the last 30 results
POWER / DIMENSIONS
Voltage : 110-220 V

Frequency : 50 - 60 Hz

Maximum power : <40W

Maximum relative humidity : 80%
About MICRO LAB INSTRUMENTS :-
Accurate and timely diagnosis helps in curbing diseases at initial stage. With growing number of diagnostic centers, demand for these machines has been also increasing. In order to meet this demand, we, Micro Lab Instruments, started manufacturing high quality diagnostic equipment. With years of experience, we have become one of the leading manufacturers, suppliers and expoters of the same. Our range of products include Biochemistry Analyzer, Automatic Biochemistry Analyzer, Elisa Strip Reader, Dry Bath Incubator, Elisa Plate Washer and many more. Moreover, we have a diligent team of scientists
Product Details
| | |
| --- | --- |
| Maximum Power | Less Than 40 W |
| Maximum Relative Humidity | 80 % |
| Number Of Parameters | 3 |
| Weight | 8 Kg |
| Temperature | 10-35 Degree C |
| Model Name/Number | Microlyte Na/K/Ca |
| Frequency | 50 - 60 Hz |
| Dimensions | 12 cm x 12 cm x 16 cm |
| Usage/Application | Laboratory |
| Brand | Micro Lab |
FAQs:
Q: What is electrolyte analyzer?
A: Electrolyte analyzer is a medical device used to measure the levels of various electrolytes in blood, urine, or other bodily fluids. Electrolytes are electrically charged ions that play important roles in many bodily functions, such as regulating fluid balance, maintaining acid-base balance, and conducting nerve impulses.
Q:What electrolytes can be measured by electrolyte analyzer?
A: Typically, an electrolyte analyzer can measure the levels of sodium (Na+), potassium (K+), chloride (Cl-), and sometimes calcium (Ca2+) and/or bicarbonate (HCO3-). Some analyzers can also measure other ions such as lithium (Li+) and magnesium (Mg2+).
Q: How does an electrolyte analyzer work?
A: Electrolyte analyzer works by using electrodes to measure the concentration of ions in a sample of blood or other fluid. The sample is usually diluted with a special solution to ensure accurate measurement. The analyzer then calculates the concentration of each ion and reports the results.
Q:What are the indications for electrolyte analysis?
A: Electrolyte analysis is usually ordered as part of a comprehensive metabolic panel or basic metabolic panel, which is a set of blood tests that measure various chemicals in the blood. Electrolyte analysis may be ordered when a healthcare provider suspects a patient has an electrolyte imbalance, which can be caused by a variety of conditions such as dehydration, kidney disease, heart failure, or hormonal imbalances.
Trade Information
1-3 Week

Contact us for information regarding our sample policy